Visste ni att Jan Persson i Köpenhamn var en av världens största jazz fotografer?
Det visste inte jag, Leif Ceder. Jan Persson har gjort flera foto omslag på några av mina skivor. Han verkar ha svenskt ursprung men är uppväxt i Köpenhamn. En av hans idoler är min favorit fotograf William Claxton.
Gå in på hans hemsida som är en guldgruva med fantastiska foton av jazzmusiker.
Jan Persson (1943-2018) has worked as freelance photographer since 1962 for Danish newspapers and magazines in and around Copenhagen. Early on he specialised on documenting the jazz scene, later also the visiting beat and rock musicians who visited Copenhagen during the sixties and the seventies. His works has been documented in a series of books and exhibitions (see under publications and exhibitions) and decorate more than 1000 LP and CD covers.
Persson has supplied photos to Down Beat since 1962, Jazz Special (DK), Musica Jazz (IT), Melody Maker (UK) and Danish newspapers Politiken, Berlingske and Ekstra Bladet. Persson received the Ben Webster Prize in March 2004.
Jan Persson on Jan Persson
On March 12, 1960, at 6.42 a.m. the deciding event occurred which, unknown to me at the time, meant that my career had once and for all been determined.
A 16-year-old paper boy, I was sitting at a staircase reading the day's paper. This was something I didn't normally do, but a big front page picture of a handsome black saxophone player had caught my eye. Closer reading of the article showed it to be a tribute to Charlie Parker of the 5th anniversary of his death. A whole new world opened to me that I never knew existed.
A quick decision that morning on the staircase: the jazz scene needed further investigation. Fortunately I was living in a city, Copenhagen, that had great opportinities. Jazz clubs were thriving. The big jazz tours, e.g. JATP, came through town. There was jazz on the radio, jazz on the evening news, and the weekly magazines had articles on the jazz culture. It was a very open environment, so thriving that a number of prominent American jazz musicians preferred to live in little old Denmark. Among the first were people like Stan Getz and Oscar Pettiford. Later came Kenny Drew, Wild Bill Davidson, Dexter Gordon, Al Heath, Stuff Smith and Ben Webster. Besides, there were a number of musicians that felt so at home in the Danish jazz environment that they frequently prolonged their stays by weeks and even months. And they mixed with the Danish musicians, across musical boundaries and styles. It was in no way unusual at 1 a.m. to see Dexter Gordon or Ben Webster sitting in with a Dixieland band. They were simply a natural part of the Danish jazz scene.
It was of course the establishment of the Montmartre jazz club in St. Regnegade that confirmed the reputation of Copenhagen as an important jazz city. Countless artists and bands played in that small room, which seated less than 200 people. And it wasn't just for a night or two that you could hear Sonny Rollins, a Dexter Gordon, a Johnny Griffin, a Roland Kirk or a Bud Powell. Often these bookings lasted from 2-3 weeks up to three months. No one else would be crazy enough to book the New York Contemporary Five, including among others Archie Shepp and John Tchicai, for three weeks, a Cecil Taylor for two weeks – or Albert Ayler next to Don Cherry.
Naturally, these at times exclusive avant-garde conditions could not last. After several attempts to save the place, St. Regnegade was forced to shut down.
On the ruins of the old Montmartre arose another by the same name in Nørregade. The owner here, Kay Sørensen, better known as Jazz Kay, was the complete opposite of Herluf Kamp Larsen. He was the world's best business manager, but less knowledgeable about music. Fortunately he had the best experts to run the place. Thus, on opening night, Jazz Kay was able to introduce Charles Mingus and his Quintet. This reasonable laid out style of the place. Every musician, known as well as unknown, sooner or later played at Jazz Kay's. Oscar Peterson was persuaded by Jazz Kay's great business skills to play for three days for the door, and Miles Davis played his first club gig for 21 years on the Montmartre stage.
But all good things come to an end. Jazz Kay is dead and the legendary Montmartre exists no more. What does exist are these photographs, all taken of musicians I admire and love. Musicians that have given me experiences great and small throughout the years. Musicians that, although not physically present, live on through their extensive LP and CD productions. Musicians that are still close to my heart.
Jan Persson
(Preface to Jan Persson, Jazz Portraits, 1996)
Här en länk till hans jazzböcker
Nedan boken om Jazzhuset Montmartre med foton av Jan Persson och med min danske favorit jazzhistorikern Frank Büchmann-Möller som medförfattare. Frank har exempelvis skrivit de bästa böckerna om Lester Young och de är bättre än amerikanska biografier.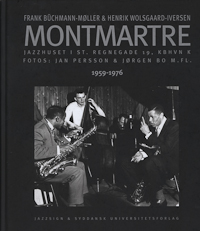 Frank Büchmann-Møller & Henrik Wolsgaard-Iversen
Montmartre, Jazzhuset i St. Regnegade 19, København K
(Jazzsign & Syddansk Universitetsforlag 2008)
On the initiative of the photographer Jørgen Bo and his wife Anne we formed a small company called Jazzsign around 2000. The only purpose of Jazzdesign was to make a book about Jazzhouse Montmartre. The birth was slow and troublesome. The book had Henrik Wolsgaard-Iversen as author, because he had worked as jazz editor and chief sub-editor for the culture department on the Danish newspaper Berlingske Tidende in the sixties, the heydays of Jazzhouse Montmartre. Frank Büchman-Møller, who was librarian at The Music Conservatory of Fyn, took care of who had played when and with whom and which LP's were recorded in the jazzhouse. An extensive and a time-consuming piece of work. In my opinion not really such a bad book.